Here's a brief tutorial of how to do some of the every day things that you may use/enjoy on Cloutsnchara. Just to help make things a little easier.
How to leave feedback:
We have implemented a new feedback system so please make sure you read everything and follow the pictures as it should explain everything in detail. There are not many changes to it and visually it all looks the same so it should be pretty straight forward.
Click
HERE
for our How To Video on how to leave feedback.
First step
: When you have completed a trade with another member you simply click on the transactions link and post a NEW TOPIC with the appropriate transaction that happened in there. You can see I put the title correct and obviously this is not a real transaction but in the thread you put the trade or sale in there between you and the other member.

Second step
: Find the person you are leaving feedback once the transaction has been completed and simply click on their username, it will bring you to their profile in which you just click their feedback percent.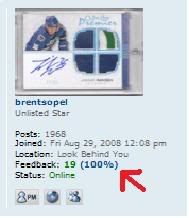 Click the feedback sign and it will take you to the feedback page.
Third Step
: Click Add feedback

Fourth Step
: It will take you to the add feedback screen, you will see Trade Topic ID which is very important now.

If you decide to not put anything in the Trade Topic ID and click add feedback it will then show up as :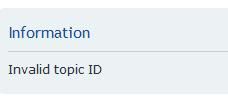 Fifth Step
: Finding your Trade Topic ID - When you posted your Transaction in the Transaction section (must be in this section) you will see in the top URL bar the following :

You need to take the last 5 digits of the of the URL which is your official TRADE TOPIC ID
Sixth Step
: After you have found your correct TRADE TOPIC ID you have to put those last 5 digits in the proper TRADE TOPIC ID section. If you for example put in the wrong code on the transaction it will show up like this :


When you put in the correct ID though :


So after it shows you the page where it will re-direct you, it will take you to their feedback page and in this case you will see I left feedback for Andjosaus and it will show like this :

You will then notice a mini paper beside my name :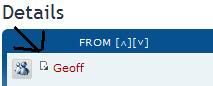 What this will show you when you click it is the original transaction thread that you were in :

There you have it! This is to ensure all transactions are completed appropriately by each of our members. If you have any questions on this system feel free to ask any of our Mods for help!
How to post images:
(There are two ways to do this, I will post both).
Option Number 1 (best options).
1A. If using Photobucket:
Step 1
: Create an account on
http://photobucket.com/
Step 2
: Upload your images directly from your computer to photobucket (not going to get into detail on how to do this, its amazingly simple).
Step 3
: Copy the 'IMG Code' Found below the image once uploaded. It is the 4th link down.
Step 4
: Paste the IMG code in the desired area in your post. Then once you submit the post, the image will appear.
1B. If using another site to store your pics that doesn't have a box for the code to click on (Weebly, imgr, flickr or any other online place that allows you to store a picture):
Step 1
: Right click on the image and click on "copy image location" from the list that pops up.
Step 2
: Right click and "Paste" the image location in your post/PM (it will be a weblink to the picture) on a different line (hit enter a couple times to make it easier to do next step before pasting).
Step 3
: Highlight the whole link you just pasted and click on the "Img" button (bar that has Bold italic options along with the Quote button etc..). This will put the "img" tags on both sides of your link, example (it will look like this but with your link in between codes):
Step 4
: Hit the "Preview" button below to make sure it looks how you want (and make sure no extra codes got in there), and then click on Submit if it worked and looks how you want it to.
Option Number 2, attachment.
Step 1
: Below the text box in the post you are creating there will be three tabs, click 'upload attachment'.
Step 2
: Click browse and select the desired image.
Step 3
: Click the box that says 'add the file'.
Step 4
: Submit your post.
However, there is a down side to this option. Due to memory restraints, we only allow three attachments per post. However, with the photobucket/other online storage options, you can post as many as you'd like.
How to re-size images in using photobucket:
Step 1
: Click on the image you would like to re-size.
Step 2
: Hover over the "resize" tab and wait until the drop down menu appears and click on what size you want (320 x 240 is recommended).
Step 3
: Agree that you are wanting to re-size your image
Step 4
: Your card is now re-sized but be aware it may take some time before it shows up correctly sized in a thread or post.
How to edit your signature:
Step 1
: In the top left of your screen it will say 'user control panel' (found below Board index). Click it.
Step 2
: Click the Profile Tab
Step 3
: Click Edit Signature
Step 4: Add whatever you want in the text box. If you would like an image, read above. Use the photobucket process. Also, if you would like a custom banner, consult this thread:
banner requests
Adding an Avatar is the same basic process.
How to hot/hyperlink link:
(This is if you would like a word to appear as a link rather then the word itself)
Step 1
: Copy the desired link.
Step 2
: Click the 'URL' tab above the text box when posting.
Step 3
: Type in the = sign and paste the link in between the 'L' in URL and the first bracket.
Example [url =LINK GOES HERE ] [/url]
Step 4
: Type the desired word that you would like to appear in between the two middle brackets.
Word Goes Here
So if I were to use cloutsnchara.com as an example but I wanted it to say Awesome. This is how its done.
[url =
http://cloutsnchara.com/
] Awesome [/url]
now when I remove the spaces...
Awesome